These are macrocyclic polyethers containing oxygen or other hetero atoms.
The prefix in brackets indicates the total number of atoms constituting the ring system and the number following the hyphen indicates the number of heteroatoms.
[18]-crown-6 has 18 atoms in the ring including the heteroatoms, which is oxygen in this case and has six oxygen atoms, which are the heteroatoms.
If a model of this molecule is made it resembles a crown hence the word "crown".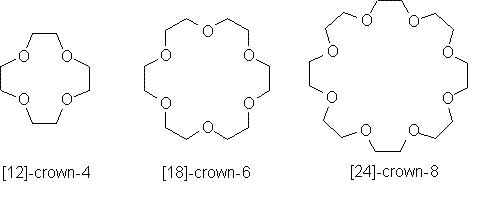 These molecules have a hydrophobic exterior and a hydrophilic interior.
Cations can get into the central cavity of these compounds and are immobilized due to the negative environment of the heteroatoms.
The cavity size determines which cations can be encapsulated inside the cavity.
The interactions between the cation and the crown ethers are purely electrostatic, that is through ion dipole attractions.
Thus each crown ether can selectively capture a cation of a specific size.
The solvating capacity of crown ethers towards metal ions can be termed as "Host- Guest relationship".
The cation
Cation dia in A.
Crown ether
Cavity dia in A.
Li+
1.36
[12]-Crown-4
1.2-1.5
Na+
1.9
[15]-Crown-5
1.7-2.2
K+
2.66
[18]-Crown-6
2.6-3.2
Cs+
3.38
[21]-Crown-7
3.4-4.3
Presence of groups like cyclohexyl, aryl groups can change the cavity size
The cavity size or cation size are too different then sandwich complexes or coiled complexes are possible.

Nature of donor site plays a vital role in selectivity. S will enhance complexes with ions like Ag+ and hamper hard alkali metal ions.
The heteroatoms include Sulphur and Nitrogen.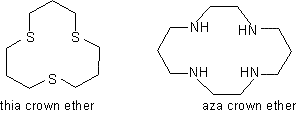 Copyrights: 2005 www.chemvista.org All Rights Reserved