Fullerenes
Fullerenes are considered as the third allotropic form of carbon (along with graphite and diamond) They are made of only carbon atoms resembling a cage like structure or like a soccer ball.
In some soccer balls there are geometrical shapes of hexagons and pentagons, a typical fullerene has carbon atoms at the corners of these shapes.
The widely known fullerene is C60. Sixty carbon atoms are present at the corners of 20 hexagons and ten pentagons on the surface of the spherical shaped structure referred to as "Bucky ball".
Along with C60, C70 and a few others were discovered in 1985.
Its first practical synthesis was achieved in 1990.
Discovery

Graphite is subjected to high energy pulsed laser beam and the product was observed to have peaks of high intensity at m=720 and 840 in the mass spectrum corresponding to C60 and C70.

Nomenclature

Fullerenes and Buckminster fullerene are so called in honour of Buckminster Fuller an architect/Engineer who used to design and construct the geodesic domes resembling them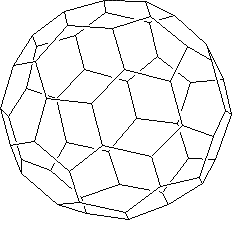 Copyrights: 2005 www.chemvista.org All Rights Reserved