Features of Hydrogen Bonding
Hydrogen Bonding and Boiling Point
What is Boiling Point?

"It is the temperature at which the vapour pressure of the liquid equals the atmospheric pressure".

In simple terms in a solid state the molecules are tightly packed and in the liquid phase this arrangement breaks down and in a gas the molecules are freely moving about with the least attractions.

In other words melting a solid or vapourising a liquid is simply pulling the molecules apart against their inter-molecular forces of attractions. The greater the attractions, more energy is needed and hence higher will be the boiling point. Hydrogen bonding between molecules(inter mlecular) is one such attractive force.
Water has many unique properties because of inter molecular hydrogen bonding.
Water is probably the only compound, which exists as a liquid in a wide range of temperatures from 0 to 100oC.
H2O and H2S are comparable / are similar molecules in many respects with one major difference that is, there is no significant hydrogen bonding possibilities in H2S due to the low electronegativity of sulphur.
Conversion of liquid phase to gaseous phase is simply pulling the molecules apart against inter molecular forces of attraction, the greater the attraction the more energy that is needed.
The boiling point of water is 100oC while that of H2S is somewhere near –60oC, a vast difference. In water because of the hydrogen bonding attraction between molecules greater energy is needed to separate them from against their inter molecular attraction, therefore higher boiling point.
Water is possibly the only liquid whose volume increases when it freezes (lower density), making ice float on water.
In some countries in winter when lakes and rivers freeze aquatic life is still possible below a thick layer of ice on the top.
Absence of hydrogen bonding in trimethyl amine explains its low boiling point( 277 K) in comparison with dimethyl amine (288 K) in spite of a larhe molecular mass of the former
Compound
BP oC
Element
BP oC
Compound
BP oC
Compound
BP oC
HF
19.4
F2
-188
H2O
373
NH3
240
HCl
-88.7
Cl2
-35
H2S
213
PH3
185
HBr
-67
Br2
59
H2Se
232
AsH3
211
HI
-35.4
I2
184
H2Te
271
SbH3
256
Variation of boiling point of water and related compounds shown in the above tabular column can also be issustrated as a plot.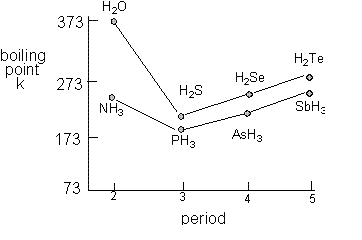 Copyrights: 2005 www.chemvista.org All Rights Reserved