Dr. Mehboob Peeran is a well known academician and administrator in the Bangalore University area.

He was associated with St. Josephs College of Science Bangalore, and has more than three decades of teaching experience. He was also the head of the Department of Chemistry. He is at present Visiting Faculty in many Institutions.

He has several research publications to his credit and has participated in a number of seminars and conferences.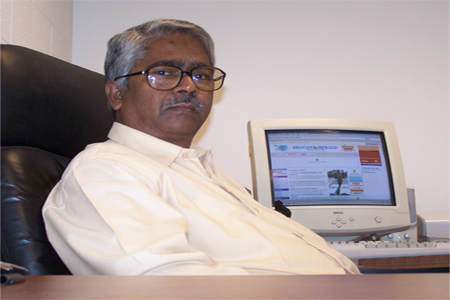 Ph.D., Loyola University of Chicago, Chicago.
Thesis title: "A Comparative Study of Additions to exo and endo-3,3- Diphenyltricyclo[3.2.1.02,4]oct-6-enes".
M.Sc. Central College, Bangalore, India.
Grad.I.T.E., Institution of Telecommunication Engineers.
B.Sc., St.Joseph's College Bangalore, India.
SPECIAL HONOURS AND AWARDS
Secured the highest rank in Bangalore University in the M.Sc., Chemistry Course (1977) and was awarded two Gold Medals and a Cash prize.
Was awarded the "Best Ph.D., Student award" in the Chemistry department of Loyola University of Chicago, Chicago, U.S.A.
Received commendation for excellence in Teaching
Chemistry Department, Loyola University of Chicago, Chicago.
Commendation for excellence in teaching as Professor at Loyola University (1999)
Petroleum Research Foundation of the American Chemical Society "Fellowship" award (1985-86.)
Schmitt "Fellowship" award (1986-87).
Associate member of the Loyola University Chapter of Sigma-Xi Society.
Member "New York Academy of Sciences" New York, U.S.A.
Member: "The Planetary Society" Pasadena California, U.S.A.
Life member: "Karnataka Association for Advancement of Sciences." Bangalore.
Gave a presentation on teaching methods in Chemistry at an International conference of ISJACHEM at Cleveland OHIO, USA. July14, 2000.
Copyrights: 2005 www.chemvista.org All Rights Reserved