Ultraviolet Spectroscopy-3
Effect of solvent on λmax
Compound: Mesityl oxide (4-Methyl pent-3-ene-2-one)

C=C
A double bond is non polar in the ground state and polar in the excited state. A change of solvent from non-polar to polar will therefore stabilize the excited state that is less energy is required for such a transition. Hence there will be increase in the λmax Increase in λmax is termed Bathochromic shift or red shift. and decrease as Hypsochromic shift (blue shift).
C=O:
A double bond having an atom with a lone pair is polar in the ground state, a polar solvent will stabilize the ground state more than the excited state. Higher energy is necessary for n--->Π* transition, when solvent is changed from non-polar to polar, λmax will decrease. and decrease is termed as Hypsochromic shift or blue shift.
λmax
ξmax
λmax
ξmax
230
12600
243
1000
329
41
305
60
n--->Π* blue shift of 25 nm Hypsochromic shift
Π--->Π* red shift of 13 nm Bathochromic shift
λmax
ξmax
λmax
ξmax
230
8600
203
7500
280
1430
254
160
The lone pair of electrons that is the "n" electrons on nitrogen in aniline get protonated in acid medium absence of conjugation from these electrons makes the molecule need higher energy for excitation hence λmax decreases.
λmax
ξmax
λmax
ξmax
210
6200
235
9400
270
1450
287
2600
In basic medium deprotonation occurs in phenol thus increasing the conjugation and influencing the absorption.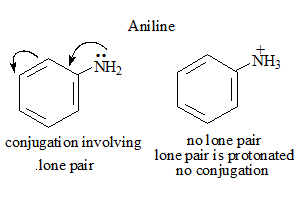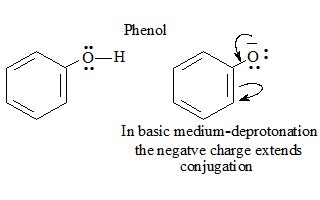 Copyrights: 2005 www.chemvista.org All Rights Reserved