Elimination Reactions
E2 Mechanism
It is a single step reaction.
The base and the alkyl halide are part of the rate determining step hence it is a bimolecular process and is termed as E2 mechanism. Halogen is the most common leaving group ( others are tosylates, brosylates)
Base abstracts a proton from the alkyl halide

The reaction occurs more readily if the H lost has some acidic character as in the following example.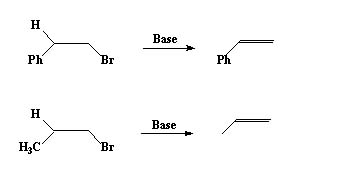 The first reaction is faster since the base abstracts a proton from the benzylic carbon resulting in a stablised carbanion. The hydrogen at the bezylic carbon is thus more acidic than in the second example.

Note: The carbanion in the first case is stabilized by resonance participation of the adjacent phenyl ring. In the second case the anion is destabilized by the +I effect of the alkyl group, hence the anion may not be formed at all.
Copyrights: 2005 www.chemvista.org All Rights Reserved